Public Policy Journal is a medium for publishing scientific papers in the form of research results and theoretical studies with a focus on the development of public policy and administration science. This scientific journal contains issues related to public  administration  issues,  formulation  and   implementation of public policies, evaluation of public policies, bureaucracy and government, management of public services, regional autonomy.
Public Policy Journal is managed and published by the Postgraduate Public Administration Program, State University of Gorontalo through a peer review process with E-ISSN 2746-4490 published three times a year every April, August and December. Before you submit an article to this Journal, we recommend reviewing the journal's policy page and author guidelines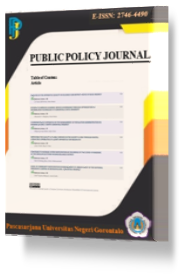 Announcements
No announcements have been published.
Vol 4, No 3 (2023)
Table of Contents
Articles